5033 Highway 17 Business Murrells Inlet SC 29576
Click on icon to watch YouTube Video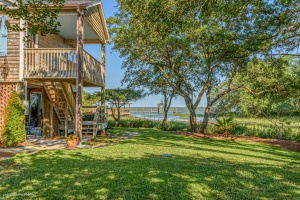 The Inlet Life is not a lifestyle; it is a way of life. This fantastic creek front home is located in the heart of Murrells Inlet. Murrells Inlet is a historic fishing village 10 miles south of the Grand Strands Myrtle Beach. Featuring the renowned Marsh Walk and some of the best restaurants in the coastal Carolinas, this way of life is contagious.
The tranquil vistas extend as far as the eye can see. Impressive sunrise views exceeded only by the full moon views from the porch and balcony. The great room, with fireplace, is perfectly positioned with amazing sightlines. From the large master suite, you have access to a screen porch. The master bathroom view will want to make you get out of bed and get ready for the day. Upstairs are two spacious guest bedrooms that share a hall bathroom. On the ground level, besides the two garage bays, is an outdoor area that is great for cooking out and would be ideal for a summer kitchen.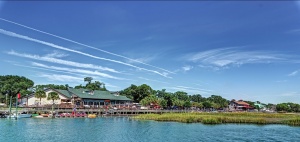 If you are like most Inlet Life residents, you will be happy to know that this home has creek access and a dock is permissible. Do not wait around; start living the Inlet way of life today!