Myrtle Beach Real Estate Market Update 2015
Myrtle Beach Real Estate Market Update 2015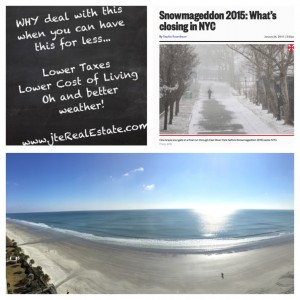 While the perfect storm conditions are wreaking havoc in the Northeast with Snowmageddon 2015, there is a very different type of perfect storm happening in the Myrtle Beach area real estate market. Very rarely in a real estate cycle is it both a good time to buy and, equally as opportune, to sell real estate. However, with a litany of varying factors this is the exact situation our market is enjoying.
Even with 2014 being a record setting year for the Coastal Carolina Association of Realtors, shockingly 2015 is predicted to be better. 2014 beat out another record setting year, 2013, by more than 500 single-family home sales. In addition to these increased sales transactions, there was a noticeable increase in the sold price.
Here are some factors that will make real estate in 2015 something to look forward to:
Rise in rent prices out pace ownership costs;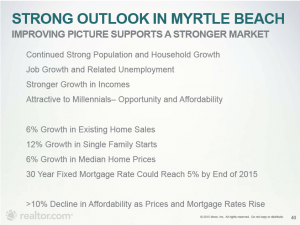 Return of the 3% down payment;
Mortgage insurance premiums lowered;
Millennial's entering the homebuyer market;
Baby Boomer's looking to capitalize on their situation;
More enablers will be falling into place to aid 1st time home buyers;
Foreclosures & distressed properties are at pre-recession levels;
Drop in oil prices;
Stronger economy equals greater consumer confidence;
Boomerang Buyers i.e. those who faced foreclosure and are now back in the market; and
New Home sales expected to be at record levels.
While the positive factors are numerous there are a couple of factors that we have to keep a close watch on. The Federal Reserve has indicated that interest rates will start to see an increase around mid-summer with the 30-year mortgage rate topping out at around 5% by the end of the year. Even though this is still historically a great rate, every percentage point lessens home affordability. The other main factor is going to be housing supply. However, this is where the new home market and homebuilders will pick up the slack making 2015 a great year for new home sales.
For all of your real estate needs make sure you contact me.
Jason T. Ellis
Broker in Charge
843-222-2672
Jason@jteRealEstate.com
820 67th Avenue North, 6950
Myrtle Beach, SC 29572
#MyrtleBeach #RealEstate #Snowmageddon2015 #1stTimeHomeBuyer #ListYourHomeForSale