Click the YouTube Icon to play the video!
8560 Queensway Blvd, Unit 1606
Myrtle Beach, SC 29572
Offered Fully Furnished
$550,000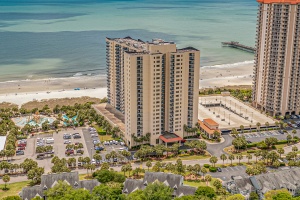 Situated on 145 acres of pristine oceanfront property along the Carolina Coast is the renowned Kingston Plantation. In addition to the vast white sand beach and blue waters of the Atlantic Seaboard, Kingston has a host of world-class amenities. Sold fully furnished, Unit 1606 in Brighton Tower is a oceanview condo. The open floor plan is ideal for a primary residence, second home, or vacation rental property. With new flooring and an HVAC system, your clothes are all you need to bring. The lifestyle you deserve is waiting for you at Kingston Plantation.
In traditional resort fashion, Kingston offers a multitude of onsite dining options. If you are looking for casual dining, the ocean, poolside bars, formal dining, breakfast, or just looking to grab something on the run, Kingston Plantation has it all onsite. The newest offering is Balck Drum Brewing, which specializes in local craft beers, fresh seafood, and much more. Owners and guests can afford additional first-class amenities like the Spa & Fitness Center, hard and clay surface tennis courts, badminton, pickleball, and beach volleyball. Continued use of the developer-owned amenities is not guaranteed. Do not hesitate; start living life as you vacation in unit 1606 at The Brighton Tower.